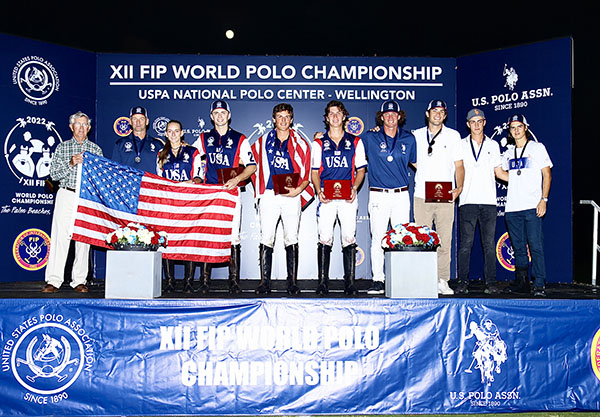 In a successful and monumental debut for the USPA-owned facility, the National Polo Center-Wellington (NPC) took center stage from Saturday, Oct. 29 through Sunday, Nov. 6 with the global XII FIP World Polo Championship.
The competition welcomed eight talented teams from across the world for ultimate international polo glory, including Argentina, Australia, Italy, Mexico, Pakistan, Spain, Uruguay and the United States. Outfitting the teams with official performance jerseys and equipment as the official apparel partner and presenting sponsor, U.S. Polo Assn. was proud to join forces once again with the FIP World Polo Championship to promote the brand.
Visiting teams arrived by Wednesday, Oct. 26 and drew one of eight evenly matched strings of 22 horses provided by J5 Equestrian, then spent time leading up to the first day of competition riding and practicing them to develop strategies. Bracket play began on Saturday, Oct. 29, and the competition officially started in grand fashion with the Opening Ceremony at NPC, which featured a team parade in classic cars and plenty of sideline spirit from spectators.
Over the course of the week-long event, Team USA (Agustin Arellano, Lucas Escobar, Nico Escobar, Jake Klenter, Hope Arellano, Joaquin Avendaño and Nico Diaz Alberdi) and Spain (Nicolas "Tuki" Ruiz Guiñazu, Luis Domnecq Carrión, Pelayo Berazadi Rózpide and Nicolas Álvarez Cervera) rose to the top of the competition. Both captured a 3-1 record entering the final.
In their opening match, USA triumphed 9-4 over Australia, establishing their position as one of the tournament's dominant competitors. A slight setback followed, falling to Italy 6-4. Desperate for a win in order to qualify for the semifinal round, USA worked tirelessly in a physically and mentally exhausting battle to edge out Uruguay 7.5-7. In USA's semifinal match, Hope Arellano entered the playing field substituting for Jake Klentner. Making history, the 19-year-old polo phenom became the first woman to compete for the United States in an FIP World Polo Championship. Her addition to the starting lineup continued USA's forward momentum, allowing the two sets of siblings to emerge with an electrifying 9-8 overtime win against the defending champions and competition favorites, Argentina.
Spain's journey mirrored that of the USA. An initial triumph over Pakistan 9-7.5 was followed by a dominant performance over Mexico 11-4.5. Already qualified for the semifinals by record, Spain suffered a setback in their third match of bracket play, falling to Argentina 6-3.5. The team bounced back and secured an assertive 10.5-7 semifinal win against Uruguay to earn their place in the title match.
USA and Spain met on NPC's immaculate U.S. Polo Assn. Field One in front of a sold-out grandstand crowd. At the outset of play, an early Penalty 1 automatic goal in favor of Spain sparked momentum for the European team, with Guiñazú drawing first blood from the field. In response, Hope and Agustin Arellano combined forces in an outstanding display of teamwork to get USA on the scoreboard, ending the chukker with Spain holding a 2-1 edge.
Digging deep to take control of the game in the second chukker, USA's Lucas Escobar maneuvered his way to goal twice, while his brother Nico capitalized on Spain's mistakes to successfully convert two penalties. Agustin Arellano added one of his own to make it a stand-out five-goal chukker for the hometown team. With just one goal off the mallet of Rózpide, the USA dominated to double up on Spain 6-3 at the end of chukker.
Eager for a comeback in the third, Rózpide and Guiñazú combined for two goals each, outscoring the USA. Hammering down on defense, Spain held USA to just two field goals off the mallet of Nico Escobar. Closing the gap between the two contenders, at halftime the USA led 8-7. Both teams hoping to replicate early success, the fourth chukker featured intense play and impeccable defense. Each team was only able to score once. Nico Escobar made the first move, with Rózpide responding to prolong the one-goal differential, now 9-8, USA still on top.
With the fifth chukker serving as the final period of regulation play, Hope Arellano worked quickly to create more space between the USA and Spain with a field goal, but a series of mistakes from USA turned into game-changing opportunities for Spain. Rózpide first successfully converted a Penalty 2, followed by another from Carrión, landing his chance at goal late in the chukker to put the game in a 10-10 deadlock and force overtime. Fierce play on both ends kept the match going through the overtime chukker's halfway point, but a foul from USA gave Spain yet another penalty opportunity, which Rózpide masterfully scored sending the ball high above the USA defenders to capture Spain's first FIP World Polo Championship title.
For his five-goal performance, golden goal and leadership on the field, Spain's Pelayo Berazadi Rózpide was named Most Valuable Player. His third and fifth chukker horse, J5 Matilde, was awarded Best Playing Pony honors.
An event that was years in the making, USPA Executive Director of Services Carlucho Arellano expressed how meaningful the success of the competition was, especially after meticulous planning efforts. "One thing that I promised when the U.S. was still bidding to be the host of the world championship was that we would give the world the very best of the USPA — the very best horses we could find, the very best venue and the very best service," he said. "I think all of that planning really translates into good polo."
FIP Tournament Coordinator Felipe Del Sel, one of the many contributors who worked tirelessly behind the scenes to help organize and execute the international event, also described his pride in being a part of the team to bring the FIP World Polo Championship to the U.S. "I think that the event went smoothly and exceeded all expectations," he said. "FIP and the teams were really impressed with all the attention to detail and the level of fields, horses and accommodation. It was the perfect event to present the National Polo Center-Wellington to the world."